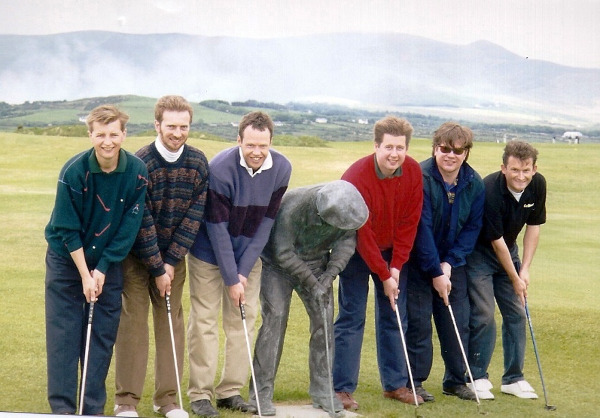 Introduction
It's 1998 and I'm working in the corporate world and playing my golf at Sunningdale Artisans #. I wanted to play some of the best courses in Great Britain and Europe. Invites were not exactly flooding in so I decide to set up my own Boy's Tour. (The tour would continue annually for the next 14 years).
We had our own claret jug and every year a new name would be engraved. I managed to win it 4 times at St Andrews, The Algarve, Gerona in Spain and Sesimbra in Northern Portugal. The goal was to play one or two of the very best courses in the area and supplement them with the best "value for money" courses too.
Our first year is to The Ring of Kerry in SW Ireland and we play Ballybunion, Tralee, Waterville, Dooks and Killarney. Handicaps range from 7 to 27.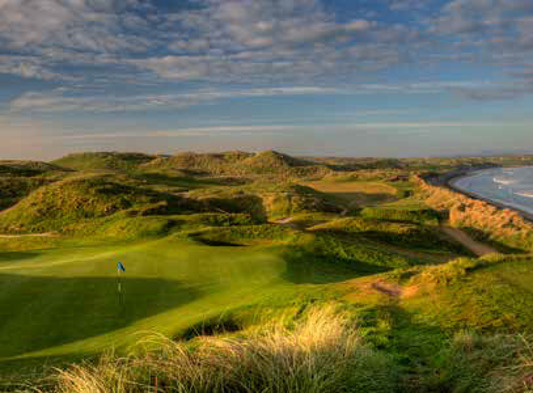 If you took a few holes from each and pieced them together, you'd probably have the best Links course in the world. We flew in to Kerry Airport, hired cars and set off each day to find the course. We'd end up down some tiny dirt tracks thinking we must have taken a wrong turning but after a mile or so the road would widen and there would be the clubhouse sat imposingly with the sea not far away. The clubhouse walls would be covered in memorabilia- photos of Tom Watson warming up before an Open for example.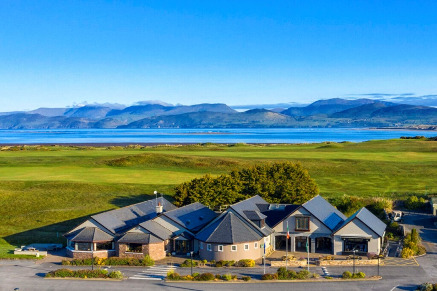 Warning! The following stories contain some laddish behaviour which you may find offensive.
The waitress
Steve K was Irish and the "character "in the group. His pre-shot routine was to stand over the ball, cigar hanging out of the corner of his mouth, waggle the club and talk to the golf ball – attempting to persuade it to bow to his will. Actually Steve could have talked for Ireland at an Olympic level; he probably talked in his sleep too! We were driving into Killorglin, a small town after our first game at Dooks for dinner. I blonde lady dressed in black with fishnet stockings, high heels and a short black skirt was walking into town too. Steve slowed down wound his window down, took a look at her face and yells out "Mutton dressed as lamb" and then drives off thinking he's very funny. We struggle to find a parking spot but eventually do, head into a nice looking local restaurant and who should be our waitress…..even Mr K was "sheepish" for a while.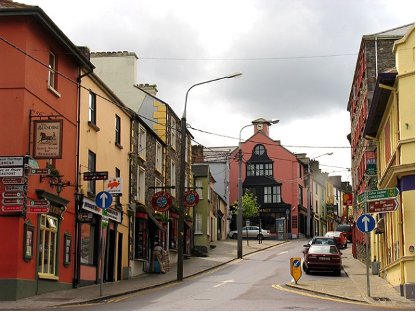 What are drinking games?
We ordered and one of the guys (David F) my mate from Sunningdale suggests we play some drinking games. Now I must have led a very sheltered life as I had no idea what he was talking about. Basically some puzzle is set and if you get it wrong, you have to take a drink. Well after about 15 mins on an empty stomach, I was feeling pretty merry but after 20 mins was feeling pretty ill. I made it to the gutter where I promptly threw up. So what now? I had no appetite so headed back to our B&B to sleep it off.
Next morning I woke feeling no worse for wear but quite peckish. I headed down to breakfast only to find Richard E fast asleep on the sofa, hugging a bottle of bourbon in a brown paper bag. Somehow Richard managed to get himself ready to play. We're on the first tee now and it was just like the hangover chapter in Bonfire of the Vanities. Poor Richard had what appeared to be an egg yolk in his head and every time he bent over to attempt to put the tee in the ground he had an urgent need to stand up and steady the yolk. Somehow using mind over matter he managed to connect with his opening tee shot. There's a grave yard on the right side of the opening hole and it was very fitting for poor Richard.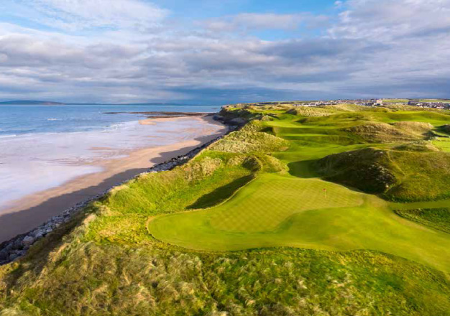 On the second tee, Keith L lost his bearings somewhat and caught his tee shot so far off the toe that the ball took off sideways, landed in the local caravan park, ricocheted around a few Winnebago's and came to rest. One irate owner came out of his dwelling shook his fist at the embarrassed Keith collected the ball and headed back inside.
My caddy
At Ballybunion I treated myself to a lady caddy (once the girlfriend of Darren Clarke)
It was a windy day and as we approached the 12th known as The Citadel; an intimidating 214yd par 3 the advice was, "so Tony can you see the green" I nodded, "well aim 40 yds out to sea and you'll be fine" so I did and I was as my crisply struck driver hit a wall of wind which deflected the ball to about 4 foot from the flag for a birdie – a rare bird indeed that day! https://www.ballybuniongolfclub.com/portfolio-item/hole-12-citadel/ Suffice to say, I won the day with a massive 33 stableford points.
The hairdresser
Now here's an interesting side story. President Bill Clinton had always wanted to play Ballybunion but was too busy. Somehow a window appeared in his diary and the villagers were delighted. They gave the high street a fresh lick of paint and out of respect, even changed the hairdresser's name for the day as it was called Monika's!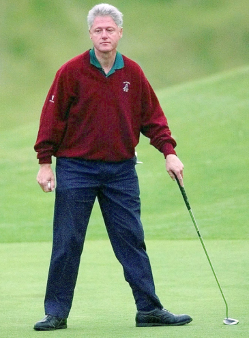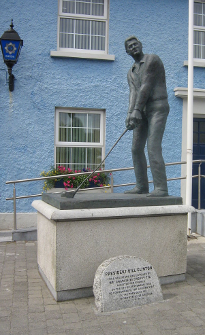 The rally driver
We were heading back from I think Waterville and I was encouraged to sit in the front. Steve, our chatty Irishman was driving. Unbeknown to me this was a set up. Steve drove faster and faster down these narrow country lanes. The guys in the back who had set me up were beginning to regret it. We approached a hump backed bridge still at rally speeds just as farmer Murphy was crossing the road with his flock of sheep, complete with sheep dogs. As we crested the bridge the world changed to slow motion. Steve looked at the farmer, the farmer looked at Steve who then managed to defy physics and bring the hire car to a complete stop before it collided with Murphy and his flock. The remainder of the drive home was a far sedater affair.
#Artisans – a club within a club, at Sunningdale this was originally set up for the chauffeurs and the gardeners of the parent club members. We had a scout hut by the driving range and had to do divotting duties on the course and have limited playing hours either early or late. We had no standing on the course, so if a parent club member came up behind us we had to let them through.
Thanks for reading my blog. If you enjoyed it please take a moment to like my Facebook page. https://www.facebook.com/TheGolfSwingCompany?ref=aymt_homepage_panel
tony@thegolfswingcompany.com 07764 895 045
www.thegolfswingcompany.com Facebook: @thegolfswingcompany