Player of the Month – Kai Masters
Kai said:
"Since beginning my lessons with Tony, my golf game has improved significantly. My main issue was thinning the ball. We found this was caused through my back swing (I would never had known this). YouTube can be helpful but a 1 -2-1 lesson is far more valuable and I am so glad I started them. My scores really dropped once we worked on my short game. A simple change to my chipping tempo has improved consistency and accuracy around the greens. With Tony's help I look forward to getting my handicap down to a low single figure in the future".
Tony said:
"I'm delighted to make Kai my player of the month. He's a great ball striker and just needed to work on a few swing plane issues and sharpen up his short game to match. Kai has recently joined Moors Valley Golf Club and his first 3 cards produced a 7 handicap. His application and love of the game should produce a category 1 handicap soon".
Congratulations Kai now 7 handicap – new goal – 5 handicap
Player of the Month – Peter Hunt
Peter  said:
"Very pleased to get my handicap down by 4 shots.
 You've helped me massively with my short game, I finally know how to set up properly for chips, and I'm putting a lot more thought into where I want the ball to land on the green. Putting wise the grip change you suggested is making me a lot more consistent and confident! Thank you."
Tony said " Peter was fun to work with over the six sessions. We looked at fundamentals of posture and swing path, then principles of chipping and changed his putting grip to left below right which was the game changer. Also had a 9-hole playing lesson where I observed Peter's course management skills and club selection. Overall he was always open to new ideas and willing to try things, even if a little out of his comfort zone to begin with. Peter is now reaping the rewards. I expect to see his handicap fall further this season.
 "I'm delighted to make Peter my player of the month.
Peter Hunt, now 14 handicap (was 18)
Player of the Month – Neil Bugden
Neil said:
"With Tony's help, my swing speed and direction is steadily becoming more consistent.
In addition, my ability to get out of bunkers has improved considerably as has my chipping around the greens.
All of this culminated in achieving my first hole in one at the second at Queens GC. It's a short and steeply downhill par 3, guarded by a large bunker at the front. I hit a solid 8 iron which landed just over the bunker and then just kept on rolling right into the hole!!"
Tony said:
"Neil is a natural golfer with a good feel for shot making. He's happy to work at new concepts and embraces the opportunity to experiment. Neil's greatest progress was in asking better questions before picking any given club for a shot. i.e. what's the right shot here?
The odds of achieving a hole in one are 12,500 to 1, so he's has joined an elite group of players (about 1.5% of golfers) who have achieved that feat) Many congratulations!
"I'm delighted to make Neil my player of the month."
Neil Bugden, 18 handicap (for now….)
Player of the Month – Antony Wright
Anthony said:
"At the start of the year, I was struggling with a big hook which was making a round of golf more like a frustrating and expensive hike in the woods. I searched around for lessons and Tony stood out as someone who would help me improve and make golf more fun. After the first few sessions I was striking the ball better and, more importantly, straighter! I'm much more excited to go and play now than I have been before. My confidence has improved and there are times where I might even pull the driver out, which I wouldn't have dreamed of a year ago. Huge thanks to Tony for helping me to enjoy golf so much more."
Tony said:
"When Anthony first came to see me he was extremely depressed with his game. We've worked together over the summer months and now he has the capability to overpower a golf course and shoot a low score with outstanding ball striking. We've also managed to increase his self belief which will, in time, make him an outstanding player.
"I'm delighted to make Anthony my player of the month.
Anthony Wright, 20 handicap (going on 12)
Player of the Month – John Norris
John said:
"I am sure your teaching technique has massively improved my swing mechanics, now rotating much better through the ball and playing much more consistent golf, with handicap on its way down nicely! Thank you for your coaching!"
Tony said:
"John is a model student; although he lives a very busy life, this year he has made time for regular coaching and simple drills away from the studio. He's really reaping the rewards now. His ball striking and consistency is beyond recognition from last year.
I'm delighted to make John my player of the month".
John Norris, 20 handicap (going on 14)
Player of the Month – Bryan Levy
Bryan  said:
"I last played golf as a youngster some 50 years ago! A friend encouraged me to take up the sport again and I did so less than a year ago. I approached Tony and invested in a course of 10 lessons.
The result is that I now go out on to the golf course feeling more confident of my ability. I have developed an approach that equips me each time I play to take a really good shot on the fairway. My golfing friends have commented how my game has improved these last few months and I owe a huge thank you to Tony for his encouragement and patience.  He is a great coach and I thoroughly recommend him."
Tony said:
"I'm delighted to make Bryan Levy my player of the month. Bryan's mindset when he first came to see me was all about "right and wrong". Over time I was able to make Bryan far more aware of his golf swing. This has resulted in more consistent ball striking and even more important – he now enjoys playing golf again!
Bryan Levy, 28 handicap
Player of the Month – George Bolton
George said:
"I was going to pack it in as a golf club member of 30 years. All time low, now all time high!   Tony re-built my confidence and certain aspects of my swing.   Sunday four ball here I come.  Money well spent."
Tony said: 
"I'm delighted to make George Bolton my player of the month. To say George was depressed and disillusioned with his game would be an understatement.
Loss of distance off the tee, struggling to get out of bunkers and shanking lob shots. After a good chat we identified the issue as one of confidence. We then focused on some set up and swing path issues, using the cameras to show George a before and after position. He quickly grasped the challenge and responded. In no time at all he was striking his tee shots with confidence.
Now he out drives his 4-ball pals and takes the money more often than not.
Well done George!
George Bolton, 15 handicap, Parkstone GC
Bruce Bailey wins Yeovil Seniors 36-hole championship by 7 strokes!
Delighted to report that one of my clients, Bruce bailey has just won his club seniors championship and reduced his handicap to 5.6 in the process. He decimated a large field winning by 7 clear shots!
Bruce bailey said:
"Hi Tony. I'm happy to report that round two of the seniors championship went very well and I carded a one over to win the gross comp.
I'm very pleased with the way I handled the day both mentally and technically. I made a small change before the first round in relaxing my grip as I felt I was choking and blocking shots. This carried through to the second round and really straightened out my shots. I drove and scrambled well and played the last four holes one under – this is my proudest bit as I was able to keep the score card "voices" shut out."
Tony said:
Bruce and I had worked on awareness of grip pressure. After each shot at the studio, I'd asked him to grade the tightness of grip on a 1-10 grip with 10 being tightest. There was no right or wrong answer just raising his awareness. Over time his golfing brain found the level which allowed his hands to "release "through impact.
We also worked on staying in the present, focusing on the shot in hand rather than thinking about the scorecard, prizes or moving fast forward to the winner's speech which often ends in tears.
Well done Bruce!
October Player of the Month – David Waldron
Tony said:
"I'm delighted to make David Waldron my player of the month. David always rises to the challenges with enthusiasm, energy and most importantly, an open mind. It's been a pleasure to see his rapid progress from disillusioned golfer to a competent and confident player.
Looking forward to the pay rise too"
David said:
A year ago my golf was at its lowest ebb. Physical injury problems and falling confidence was making me think of giving up the game. Instead, I decided to try a pro and picked Tony Hand simply because he used a technique designed to build on your natural swing rather than stuff you into a one size fits all methodology. Less than a year on and my handicap is falling fast, my confidence is sky high and , best of all, I am enjoying the game. My team mates said "Whoever your coach is, you're not paying him enough"
David Waldron, 26 handicap, Merrick Park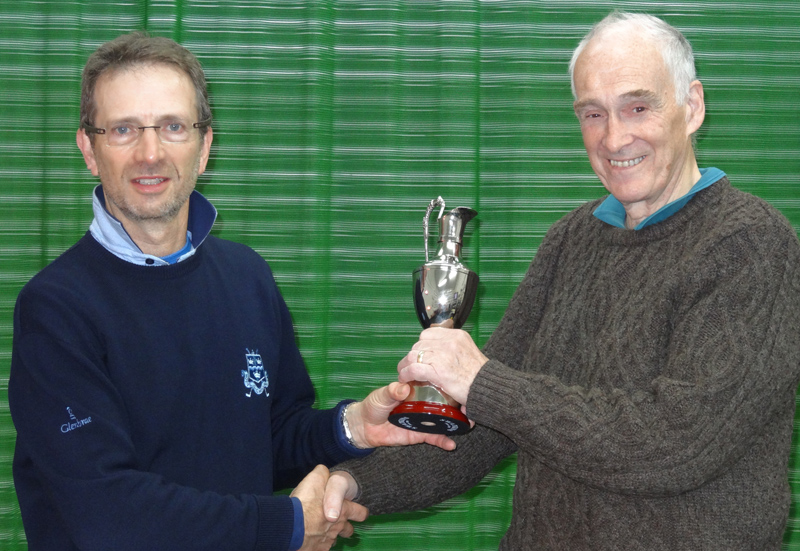 September Player of the Month – Bruce Bailey
Tony said: "Delighted to make Bruce Bailey my player of the month. Bruce is a single figure handicapper but was struggling with his putting. We worked on his technique and as importantly his mental approach.
His progress was both rapid and outstanding as described below:
Bruce said: "Following my recent putting lesson, I've had a two over and one under round at Yeovil. In addition, I won the Scratch Salver at Brockenhurst, drove well but my putting was exceptional. My attitude has changed from lagging putts to sinking everything!
Therefore I believe my success is down to both the technical change you suggested as well as the mental change you encouraged."
Bruce Bailey, 7 handicap, Yeovil GC