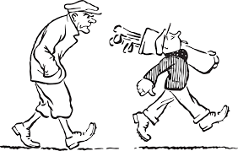 It's the summer of 1985 and I was on the driving range at Sunningdale golf club. Being a Sunday, everyone's either gone home for lunch or were out on the course. Suddenly I noticed a crowd form around the first tee and by that I mean about 200 people. Now that was strange, so I wandered over and blow me down with a feather, there was Jack Nicklaus and his tall son Steve. It was even more unusual as this was The Open Championship weekend at Royal St George's and Jack had failed to qualify for the first time ever shooting 77, 75 (The reason was that one of his other sons had been involved in a car accident so Jack's mind was clearly elsewhere).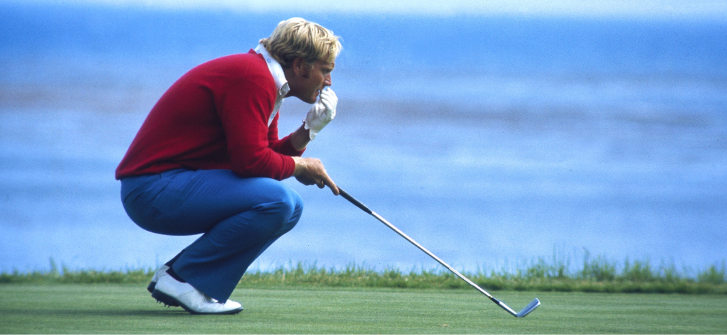 However rather than high tailing it back to the States, instead Jack and son made a b-line for Sunningdale as he'd always wanted to play there but had never managed to before.
The crowd hushed and Jack and Steve both split the first fairway with impeccable drives. To keep the ball in play (as the fairways were dry and fast running) they teed off with 2 irons most of the time. It really was "awesome" to watch them both rip into these shots with such gusto.
Now if it had been me and I'd just failed to make the cut in The Open for the first time ever, I'd be licking my wounds and not really relish such a large and enthusiastic entourage. Not a bit of it, Jack would step away from a chip shot, explain his strategy and then execute it perfectly. What a true ambassador for the sport.
Eventually they reached the stroke 1 12th, about 440yds off the back tees.
The opening shot faces a fairway that slopes gently right to left and well placed bunkers to gather up a drive on either side. Jack threaded his tee shot through the gap and was left with a second shot of about 180 yds to a raised green with a high bank on the right and position z to the right of that. His caddy suggested a solid 7 iron but Jack stood there a moment, visualised a different shot and elected for a 6 iron. He then proceeded to start the ball right of the right hand bank (over position z) and draw it in what seemed like sideways towards the end, land softly and roll out to within about 3 feet of the hole for an easy tap in on the hardest hole on the course. How on earth did this guy just miss the cut in The Open!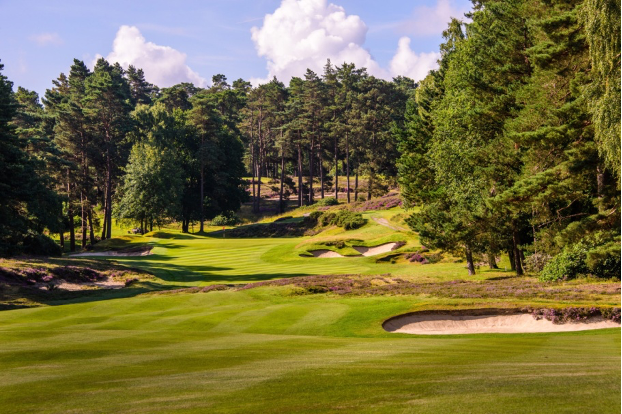 Jack Nicklaus has won more majors and PGA events than anyone in history including Tiger. Fifteen years on and despite two hip replacements, Jack played the tougher New Course at Sunningdale with Gary Player and drove to places I could only dream of (during my 34 yrs there) and eagled two par 5's to boot. What a legend and what a gentlemen. https://www.youtube.com/watch?v=lFFgNJPF4DQ
Thanks for reading my blog.
tony@thegolfswingcompany.com 07764 895 045
www.thegolfswingcompany.com Facebook: @thegolfswingcompany