Introduction
Every year I invest in my golf education by spending time with industry experts such as Fred Shoemaker, Karl Morris, Timothy Gallwey or Steven Orr & Scott Cranfield. However, this year there are no workshops so I decided instead to spend 2 days with my golf coach, Russell Evans based at the Rustington Golf Centre near Arundel. Russ coaches the Sussex boys and girls junior teams and has a wealth of knowledge coupled with bags of energy, enthusiasm and patience.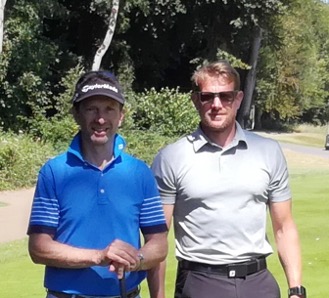 I sent him my "wish list" in advance and he converted this into a two-day programme.
We started on the range and he quickly identified my overriding swing fault (dropping the club on the inside of the downswing leading to a push or a hook)
Russ gave me a drill to address this swing flaw and after a while asked me to take the drill onto their 9-hole course. See the video below.
He brought with an unusual Process Score Card which reflected my commitment to the drill and the feeling from the drill in every shot I played (5 being total commitment and 1 being poor commitment). Whenever the score fell below 5 we explored what had prevented my total commitment .The quality of the shots played was secondary to the commitment itself. i.e. being totally absorbed in the process.
On all but 3 shots my score was either 4 or 5. A by-product was that after a shaky first hole, I parred the remaining holes.
It would have been very easy to have abandoned the new drill after such a poor first hole but I stuck to the drill and committed to the process.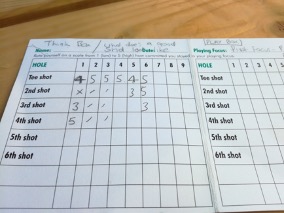 Summary
It's always a challenge to take new swing thoughts onto the golf course, and even harder to stick with it when things don't go well at first. My personal experience above demonstrated that if you use tools such as a Process Score Card and worry less about the actual score, a breakthrough can be achieved.
If you'd like to try this process from golf lesson to playing lesson – just get in touch.
tony@thegolfswingcompany.com 07764 895 045
www.thegolfswingcompany.com Facebook: @TheGolfSwingCompany